A Talis Rayon Shoham
$ 48
In Stock and Ready to Ship!
Product Information:
The Shoham is a Rayon Talis with a print woven into the white section of the garment. The print represents the Blessing. It is a beautiful garment with a fine linen look and satiny touch. Available in 6 colors…
Recently Viewed Items
Item Description
My Account
My Shopping Basket
EUROPEAN STYLE HUMAN HAIR WI...
$ 1200.00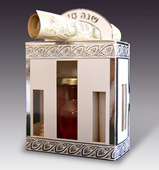 Rosh Hashanah Honey Gift Pac...
$ 22.5
Hamsa and Star of David chan...
$ 13.8
CM815
$ 3.90