Item ID: 21895
AJI
12 Paint a Dreidel Kit's
$ 92
In Stock and Ready to Ship!
Product Information:
12 Paint your own Dreidel. Hours of Creative Fun for the kids. Great for a fun filled Chanukah party, Sold in packs of 12. Recommended for ages 4 and up
Recently Viewed Items
Item Description
My Account
My Shopping Basket
100% EUROPEAN HUMAN HAIR WIG...
$ 2400.00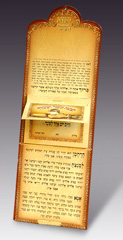 Sefirat Ha'Omer Counting Mag...
$ 11.3
H&B Dead Sea Multi Purp...
$ 11.9
Gold "If I Forget Thee O Jer...
$ 37.5